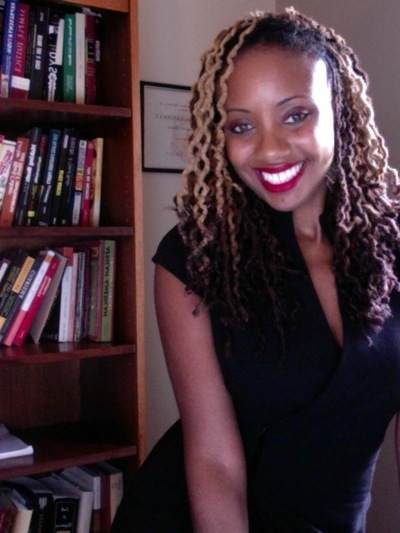 Treva Lindsey
Associate Professor
308D Dulles Hall

Areas of Expertise
Black feminism(s)
Hip hop studies
Critical race and gender theory
Sexual politics
African diaspora studies
Black popular and expressive culture
African American women's history
Education
Ph.D., Duke University, 2010
M.A., Duke University, 2006
B.A., Oberlin College, 2004
Dr. Lindsey specializes in African American women's history, black popular and expressive culture, black feminism(s), hip hop studies, critical race and gender theory, and sexual politics. Her first book is Colored No More: Reinventing Black Womanhood in Washington D.C. She has published in The Journal of Pan-African Studies, Souls, African and Black Diaspora, the Journal of African American Studies, African American Review, The Journal of African American History, Meridians: Feminism, Race, Transnationalism, Urban Education, The Black Scholar, Feminist Studies, Signs, and the edited collection, Escape from New York: The New Negro Renaissance Beyond Harlem. She was the inaugural Equity for Women and Girls of Color Fellow at Harvard University (2016-2017). She is currently working on her next book project tentatively titled, Hear Our Screams: Black Women, Violence, and The Struggle for Justice.
She is also the recipient of several awards and fellowships from the Woodrow Wilson Foundation, the Social Science Research Council, the Andrew W. Mellon Foundation, Emory University, the National Women's Studies Association, the Coca Cola Critical Difference for Women Grant, the Center for Arts and Humanities at the University of Missouri and the College of Arts and Sciences at The Ohio State University. Dr. Lindsey was the inaugural recipient of the University of Missouri Faculty Achievement in Diversity Award. She is the co-editor of a forthcoming collection on the future of Black Popular Culture Studies (NYU Press). Dr. Lindsey is also the current co-chair of the Women of Color Leadership Project for the National Women's Studies Association. She is building a strong online presence by guest contributing to  Al Jazeera, BET, Complex Magazine, Cosmopolitan, HuffPost Live, NPR, The Root, and The Marc Steiner Show.
2021 Graduate Admissions:
Dr. Lindsey will not be taking on new graduate advisees during the Autumn 2021 admissions cycle.
Recent Publications
Colored No More: Reinventing Black Womanhood in Washington, D.C (University of Illinois Press,  April 2017)

"Why You So Angry?: Serena Williams, Black Girl Pain, and the Pernicious Power of Stereotypes," in Between the World and the Urban Classrooms, eds. Christopher Emdin and George Sirrakos, Jr., Sense Publishers, April 2017

"The #BlackFeministFiyah Re-Up: An Introduction," The Black Scholar, (Vol. 46. No. 2), Spring 2016, pp.1-4

"Introduction: A Love Letter to Black Feminism," The Black Scholar, (Vol. 45. No. 4), October 2015, pp.1-6.

"Post-Ferguson: A "Herstorical" Approach to Black Violability," Feminist Studies, (Vol. 41. No. 1), April 2015, pp. 232-237.

"Let Me Blow Your Mind: Hip Hop Feminist Futures in Theory and Praxis," Urban Education,
Special Issue: Theories, Concepts, and Methods in Hip Hop Education, (Vol. 50, 1) January 2015, pp. 52-77.