May 5, 2023
WGSS Seniors Win Campus Awards
Image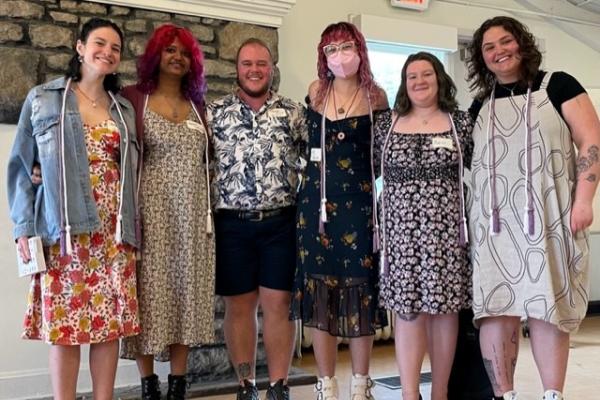 Description
Graduating WGSS majors Danni Patterson and Lily Furgeson and WGSS minor Kelsey Lowman have been awarded prestigious University wide awards.
Danni Patterson is the recipient of the Outstanding Senior Award given by the Office of Student Life. The Outstanding Senior Award recognizes seniors who have made significant contributions to the University and community. To receive this recognition, students must have demonstrated exemplary scholarship, leadership and service over the course of their college careers. Danni was recognized for her leadership as the President of both It's On Us, a student organization whose mission is to end sexual violence through support and advocacy, and as Co-President of Triota, the Women's, Gender & Sexuality Studies Honor Society. She also served as Head of Marketing for PERIOD, a mentor with College Mentors for Kids, a Student Ambassador with the Student Health Center, and Resident Advisor with Housing & Residence Education. Danni's recommender noted that she "modeled a way to be both fearsome and joyful in the pursuit of better, freer futures." Danni was also recognized for her service to the Department of Women's, Gender and Sexuality Studies for her outstanding service as the 2023 Virginia Reynolds Book Award winner.
Lily Furgeson is the recipient of the Outstanding Student Advocate Award given by the Office of Disability Services out of the Office of Student Life. During their partnership with Dr. Erin Grogan, Lily independently researched and authored two workshops, Disability 101 and Accessibility and Disability Resources, to educate non-disabled students, faculty, and staff about disability and to connect disabled students with SLDS and ADA resources. In her workshops, Lily situated disability within a larger movement for social justice and inclusion both on campus and beyond, thus demonstrating a commitment to thinking about disability intersectionality. Lily also serves other roles in advocating within their WGSS major for a more accessible environment and more disability representation in the curriculum.
Kelsey Lowman is also a recipient of the Outstanding Senior Award as well as the Kaplan Humanitarian Award both given by the Office of Student Life. The Kaplan Humanitarian Award recognizes a student whose efforts, on behalf of intercultural, interfaith and/or interracial understanding, have made a distinctive contribution toward achieving love for all people. In her four years of advocacy as a leader within Undergraduate Student Government, Kelsey has maintained her commitment to transforming her passion for social justice into meaningful change. Through the Senate Council of Student Affairs, she has collaborated with student activists and successfully advocated for religious accommodations, first-generation student resources, student basic needs, food and housing security, increased student wages, and improved working conditions, all of which demonstrates her care for community members at Ohio State, in Columbus, and beyond. 
Congratulations Danni, Lily and Kelsey from all of us here at WGSS! We're so proud of you!
---