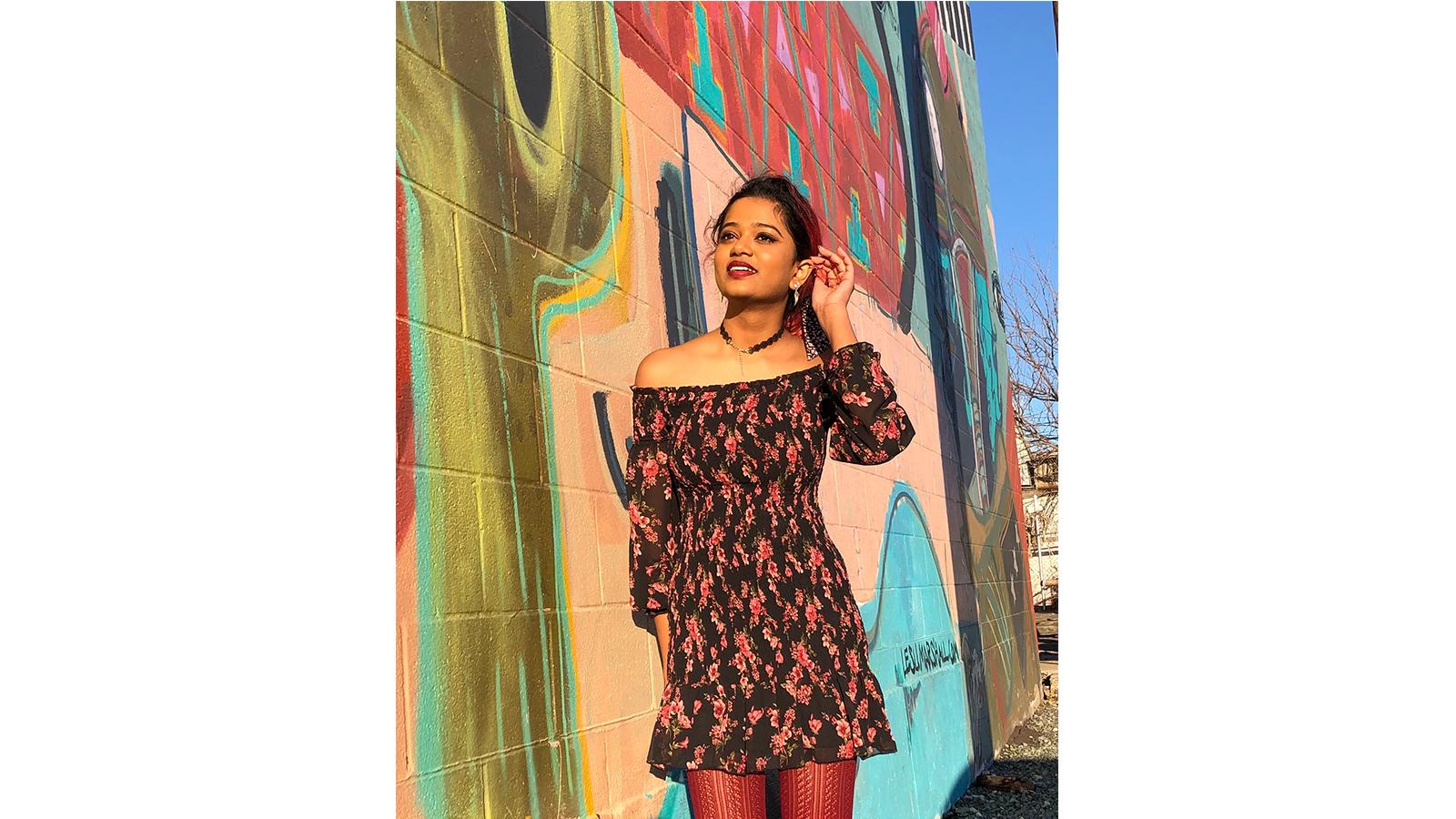 Body
2021 Mildred Munday Scholarship Winner: Jayasree Sunkireddy
The Mildred Munday Scholarship is named posthumously for Dr. Mildred Munday, who was instrumental in the creation of the Department of Women's Studies at The Ohio State University. Scholarships supported by the fund provide tuition for WGSS undergraduate majors who demonstrate excellence in scholarship and a commitment to Women's, Gender and Sexuality Studies.
Advanced
Text
The 2021 scholarship was awarded to Jayasree Sunkireddy!
Jayasree Sunkireddy is double majoring in Women's, Gender and Sexuality Studies and English Literature with a minor in Professional Writing. She is an international student from India who is graduating in May 2023. Her academic focus is on women, specifically their place and contributions throughout cultures and histories, and how we acknowledge their presence. She plans on pursuing a career in the publishing after graduation to contribute to the current cultural narrative about and created by queer women, women of colour, immigrant women, and so many more people who have not always been given the opportunity to voice their stories and opinions. She has interned for the English department, is a member of the literature acquisition staff of Mosaic magazine, and contributes articles to Alger Magazine.
Our 2020 scholarship was awarded to Tori Schaefer.
Tori Schaefer majored in WGSS with a minor in Philosophy. In addition to her studies, she spent her time working on the Student Farm, salsa dancing, meditating, and making ceramics. Her answer to 'why study WGSS?' is: there's nothing it doesn't apply to. Tori's academic interests center around international power structures and decolonization, and to lived experiences within these power structures. Additionally, Tori contributed time in her summers to mentor preteens and share the social justice ideals she has developed through her WGSS education. Tori is grateful for the WGSS scholarly community that works together to create this space for interdisciplinary inquiry. Tori graduated in May 2021 and hopes to continue exploring the world and impacting the interconnected spheres of social relationships and institutional structures within it.
Our 2018 scholarship was awarded to Sabs Jamal-Eddine.
Sabs Jamal-Eddine double-majored in Women's, Gender and Sexuality Studies and Nursing. She was the president of Triota, the vice president of Ladies of Leadership— a weekly mentorship program for first year women of color, a Social Change Ambassador and Site Leader for Student Life's Department of Social Change, and interned with Senator Edna Brown to study political system dynamics and better represent all demographics in policies, particularly women of color. In addition, Sabs led a number of community programs, including the Music Explorers program for newborn through five-year-old children, and ENCORE— a program she created with the Circleville Juvenile Correctional Facility that introduces high-profile incarcerated male youth to the power of music and spoken word as forms of oppositional art challenging hegemonic ideologies. Sabs graduated in 2019 and plans to pursue her MA to become a Women's Health Nurse Practitioner and work towards her goal of becoming a senator on the Healthcare Senate Committee.
Our 2017 scholarship was awarded to Allison Susor.
Allison Susor majored in Women's, Gender and Sexuality Studies with minors in History and Pop Culture Studies. During her fourth year, she served as president of 1girl, a group on campus dedicated to sending college age women into middle schools to talk about goal setting and women's empowerment. Along with the mentorship she provided through her work in 1girl, Allison was also an executive board member in the service fraternity Alpha Phi Omega. In addition, the WGSS Undergraduate Studies Committee was lucky to have her serve as the WGSS major representative. Allison was also a member of Triota and served on the executive board. Allison's commitment to the field of WGSS is not only in her service, but in her studies, as well. She worked with professor Wendy Smooth in a research position with Dr. Smooth's research on women and girls of color. Allison believes that the tools that we gain from WGSS courses allows us to bring them into communities and to help us to stand up to injustice long-term.
Our 2016 scholarship was awarded to Logan Sherman.
Logan Sherman worked with a team of LGBTQ leaders and Dr. Drake to change housing policies, as well as contributes to healthcare reform around trans care, HIV-related care, and medication costs, and addressing other gaps identified by LGBTQ students. They also worked with another student to organize a sit-in on a USG event and have since become involved in sexual violence prevention on campus. Logan served on the Title IX Committee and Dr. J's Buckeye ACT Task Force in order to make sure LGBTQ voices are heard. Logan was an openly trans Resident Adviser to 65 residents in a building of 1300 and became a Resident Manager the following year. Logan worked in Residence Life to address gaps for LGBTQ residents. In their spare time, Logan supports #BlackLivesMatter actions in Columbus and other justice causes and events.
We awarded two scholarships in 2015 to two WGSS majors. 
Lainie Rini majored in WGSS and Geography during her time at OSU. She has used the ideas from each of these disciplines in her research, investigating the raced relations within food movement initiatives. Throughout her undergrad, Lainie was involved with campus activism alongside of her academics. After graduation, she planned to follow through with knowledge built and the relationships she has made during her research in order to continue to build with others an anti-racist food movement. She was also involved with the Real Food Challenge, a student organization that calls on OSU to start divesting from agribusiness and build up fair and ecological producers, and United Students Against Sweatshops, mobilizing against the proposed privatization of the power plant.
Dominique Gale-McClean is from Boston, MA and majored in Women's Gender and Sexuality Studies. She became a member of Alpha Kappa Alpha Sorority, Inc. at Denison University, prior to becoming a Buckeye. Through this organization she has been able to hone her leadership skills and give back to the Columbus community. At Ohio State, Dominique participated in the Buckeye Leadership Fellows program, was president of the Baker West Arts Council (BWAC), and president of Triota, the WGSS Honor Society. Upon graduation she planned to study law in order to serve and represent marginalized communities who lack access to proper legal care.