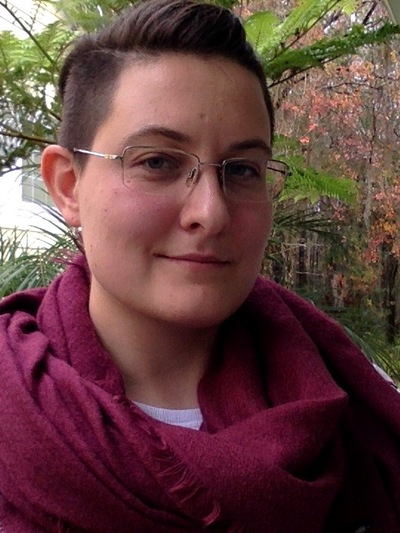 Tatsiana Shchurko
Lecturer
Areas of Expertise
Transnational feminism
Black and Women of Color Feminist Thinking
Critical race studies
Politics of solidarity
Postsocialist studies
Education
2021 PhD, Women's, Gender, and Sexuality Studies; The Ohio State University, Columbus, OH
2008 MA, Sociology: Visual and Cultural studies: Gender Studies; European Humanities University; Vilnius, Lithuania
2006 BA, Psychology (specialization: Medical Psychology); Belarusian State University, Minsk, Belarus
I am a researcher and queer feminist activist from Belarus committed to transnational and intersectional feminist theorizing and activism. My research focuses on critical genealogies of transnational feminism, specifically centering the connections between Black women's transnational activism and Eurasian knowledge production. My work is situated within anti-colonial feminist theorizing with a focus on multiple imperialisms within and between Europe, Eurasia, and the United States.
In my dissertation, Geographies of Solidarity: Rethinking 'Hidden' Histories of Socialist Internationalism for Transnational Feminism Today, I explore unclaimed histories of socialist internationalism to imagine their relevance for transnational feminist solidarity today. I look specifically at the relations between Black women and state socialist women as well as "sister city" solidarities. I examine the underlying causes for why these histories are unclaimed both in East European feminist work and western situated transnational feminist theorizing. In my returning to past solidarities made possible by socialist internationalism, I consider "what could have been" if such connections had survived the ideological demise of state socialism. I theorize a "postsocialist reading practice" through three encounters: Audre Lorde's travels to the Soviet Union; "sister city" solidarity between Minsk, Belarus and Bangalore, India; and Black women sojourners to the Soviet Union focusing on Alice Childress, Claudia Jones, Louise Thompson Patterson, and Eslanda Robeson. I visited multiple archives for this project, including the Schomburg Center for Research in Black Culture, NYU Special Collections, Moorland-Spingarn Research Center at Howard University, Emory University's archives and special collections, and Spelman College archives. I approach archival materials to understand the current resonance of Black internationalist feminism for different geographies, such as the former second world, that exist in the dual imperialisms of Europe and Russia. Throughout, I am attuned to the myriad logics of racialization in both the U.S. and Europe's peripheries, as well as the intersecting oppressions of racism, heterosexism, capitalism, and imperialism.
 I currently am teaching courses in WGSS and courses cross-listed with the Department of African and African American Studies. I have taught a range of courses, including Gender, Sex, and Power; Black Women Writers; Health and Inequality; Sexualities and Citizenship; and Regulating Bodies: Global Sexual Economies.
Publications in English
2019, forthcoming. "(Re)thinking Postsocialism: Interview with Neda Atanasoski and Kalindi Vora" (co-authored with Lesia Pagulich). Feminist Critique: Breaking with Transition: Decolonial and Postcolonial Perspectives in Eastern Europe (special issue with Balkan Society for Theory and Practice).
2018. "'Gender Education' in the Post-Soviet Belarus: Between Authoritarian Power, Neoliberal Ideology, and Democratic Institutions." Policy Futures in Education: Educational Policies in Central and Eastern Europe: Legacies of State Socialism and Challenges of Semi-Peripheral Contexts (Sage Publication), 16 (4): 434—48.
2017. "Women's Health – Nation's Health: The Policies of Reproduction in Post-Soviet Belarus." Gender Panic, Gender Policy, edited by Vasilikie P. Demos and Marcia Texler Segal, 24: 45—66. Advances in Gender Research. Bingley, UK: Emerald Publishing Limited.
2015. "Gender Sector and Civil Society in post-Soviet Belarus." Civil society in Belarus 2000 – 2015, edited by Valier Bulhakaŭ and Aliaksej Lastoŭski, 147—160. Warsaw: East European Democratic Center.
2014. "Children's Rights in post-Soviet Countries: The Case of Russia and Belarus" (co-authored with Victoria Schmidt). International Social Work, 57 (5): 447—458.
 
Publications in Russian and Belarusian
Books
2014. Queer-Sexuality: Politics and Practices. Edited by I. Solomatina, T. Shchurko. Minsk: Galіyafy.
Articles
2016. "'Woman of the East': Soviet Gender Order in Central Asia between Colonization and Emancipation." Concepts of the Soviet in Central Asia: STAB Almanac, edited by Oksana Shatalova and Georgy Mamedov, vol. 2, 178—209. Bishkek: SHTAB Press.
2016. "Representation of Women in the Textbooks on 'History of Belarus' (2009-2012)." Political Sphere, 24 (1): 56—77.  
2015. "'Reproductive Labour' as a Form of Violence: Art Practices of Resistance in Local Contexts." Feminist (Art) Critique, edited by Olga Shparaga and Irina Solomatina, 296—321. Kaunas: Taurapolis.
2015. "'Gender Sector' and Civil Society: Feminist/ LGBT/ Queer – Initiatives and Practices of Implicit Discrimination." ARCHE, 4: 152—167.
2014. "(Bio)political Games: Assisted Reproductive Technologies in Belarus." Topos, 2/3: 108—126.
2014. "'Hudzhum': The Emancipation of Women in the Period of Early Soviet 'Experiments' in Soviet Kyrgyzstan (1918-1930)." Regain the future: STAB Almanac, edited by Oksana Shatalova and Georgy Mamedov, vol. 1,126—145. Bishkek: SHTAB Press.
2014. "Child Protection in Belarus: the Toolkit of Social Control." Family and Childhood Policies in Post-Socialism, edited by Victoria Schmidt, Elena Yarskaya-Smirnova and Zhanna Chernova, 187—209. Moscow: Variant, Center for Social Policy and Gender Studies.
2013. "Gender analysis of the Belarusian Primary School Textbooks." In: "Pictures in my Primer": Pedagogical Semantics of Illustrations in Primary School Textbooks, edited by Natalia Barannikova, 258—286. Moscow: Russian Academy of Education, Institute of Theory and History of Pedagogy, Russian State University for the Humanities.
2012. "'Compulsory Motherhood': the Female Reproductive Body as Regulated by the State (Based on the Analysis of the Newspaper 'Sovetskaia Belorussiia')." Laboratorium, 2: 69—90.
2009. "Focusing on Women Body: Physicians, Sociologists and Female Internet Communities about 'Eating Disorders'." The Journal of Social Policy Studies, 7 (3): 381—404.