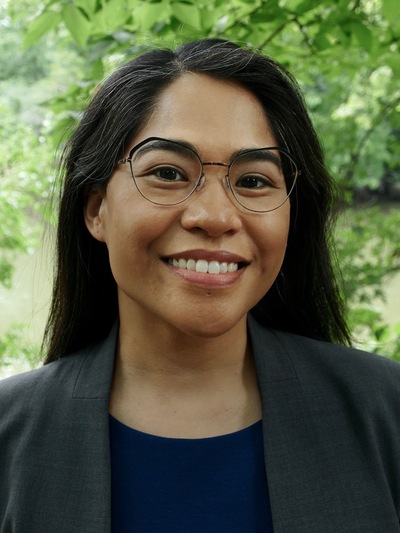 Juno Salazar Parreñas
Assistant Professor
308C Dulles Hall

Areas of Expertise
Environmental studies
Global political economy
Feminist science and technology studies
Animal studies and multispecies ethnography
Education
PhD, Anthropology, Harvard University, 2012.
MPHIL in Cultural Analysis, University of Amsterdam, 2002.
BA, Women's Studies with Highest Honors, UC Santa Cruz, 2001.
Juno Salazar Parreñas' ethnographic research speaks to feminist science studies, environmental humanities, critical development studies, and global political economy. Her book, Decolonizing Extinction: The Work of Care in Orangutan Rehabilitation (Duke UP, 2018), examines the question of how are we to live and die in this current age of extinction when colonial legacies help determine who and what are in better positions to survive. She is the editor of Gender: Animals (Macmillan Interdisciplinary Handbooks, 2017). Her article, "Producing Affect: Transnational volunteerism in a Malaysian orangutan rehabilitation center," received the 2013 General Anthropology Division's Exemplary Cross-Field Scholarship Prize, which is one of the American Anthropological Association's largest prizes for an article. She is also a featured columnist in the Los Angeles based monthly magazine The Lesbian News.
Hear her discuss decolonization, extinction, the Anthropocene, and wildlife conservation with the  sound artists Island Songs (Nicolas Perret & Silvia Ploner) on their soundscape project YNK, which was featured in the Documenta 14 art exhibition radio program and broadcast in Berlin on SAVVY-Funk, in Kassel on FM, and streamed internationally online on Deutschlandfunkkulture.
Select Publications
Decolonizing Extinction: The Work of Care in Orangutan Rehabilitation. Durham, NC: Duke University Press. 2018.
Gender: Animals, Macmillan Interdisciplinary Handbooks. Farmington Hills, MI: Macmillan Reference USA. 2017.
"The Materiality of Intimacy: Rethinking 'Ethical Capitalism' through Embodied Encounters with Animals in Southeast Asia." Scheduled for Volume 24, Issue 1. Positions: Asia Critique. January 2016.
"Multispecies Ethnography and Social Hierarchy." Engagement: a Blog Published by Anthropology and Environment Society of the American Anthropological Association. September 15, 2015.
"Chen: Animacies: Biopolitics, Racial Mattering, and Queer Affect" American Anthropologist. Book review. Volume 115, Number 3, p. 519. September 2013.
"Producing Affect: Transnational volunteerism in a Malaysian orangutan rehabilitation center." American Ethnologist. AE Forum, with commentary by Danilyn Rutherford. Volume 39, Issue 4, pp. 673-687. November 2012.
Recent Research Activity
Making the 'Future of Work' Work. University of Michigan. School of Information. June 2019
Postcolonial Tensions. Harvard University. History of Science Department. April 2019
Design Trouble: A Symposium on the Ordinary Ethics of World-Building. University of Washington. Department of Human Centered Design and Engineering. April 2019
Le Primate comme Sujet (Primate as Subject). Laboratoire d'Anthropolgie Sociale. Collège de France. Paris, France. Symposium. May 2018.
Captivity. Center for Diaspora and Transnational Studies. University of Toronto. Canda. March 2018.
Decolonizing the Plan II. Max Planck Institute for the History of Science working group seminar. Berlin, Germany. June 2017.
Volatile Futures, Earthly Matters. Center for the Advancement of Public Action. Bennington College. Symposium. May 2017.
How Nature Works. School for Advanced Research Advanced Seminar. Santa Fe, New Mexico. September 2016.
Past Fellowships and Awards
Ohio State University Arts and Humanities Larger Grant. 2018-2019
Deutscher Akademischer Austauschdienst (German Academic Research Exchange Service) Research Stay for University Academics and Scientists, Summer 2018
Ford Foundation Postdoctoral Fellowship alternate, 2016-2017
Cornell Society for the Humanities Research Fellowship, 2014-2015 (declined)
Prize for Exemplary Cross-Field Scholarship, General Anthropology Division of the American Anthropological Association, 2013
Rutgers Center for Historical Analysis Postdoctoral Fellowship, 2013-2014
Agrarian Studies Postdoctoral Research Fellowship, Yale University, 2012-2013
Certificate of Distinction in Teaching, Faculty of Arts and Sciences, Harvard University, Fall 2010.