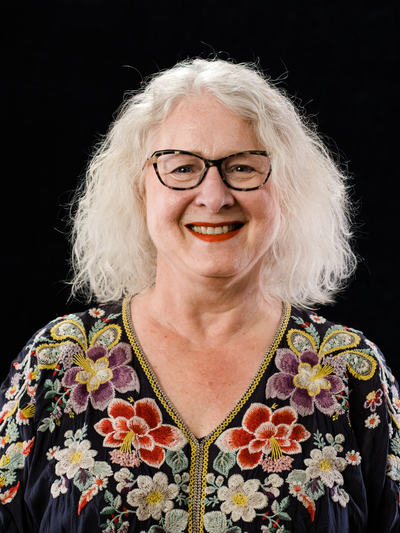 Robyn Warhol
Department of English
405 Denney Hall

Areas of Expertise
Narrative theory
Regency and Victorian novels
Feminist theory
Television narrative
Graphic memoir
Seriality wtudies
British and American women writers
Education
Ph.D., Stanford University, 1982
B.A., Pomona College, 1977
Pronouns
She/her/hers
Robyn Warhol is Arts and Humanities Distinguished Professor and Chair of English at the Ohio State University. After 26 years at the University of Vermont, she joined Ohio State's English Department and Project Narrative in 2009.
She and Susan S. Lanser co-edited Narrative Theory Unbound: Queer and Feminist Interventions (2015), awarded Honorable Mention for the 2015 Perkins Prize for the most significant contribution to narrative studies. With Helena Michie, she co-authored a work of "meta-archival biography," Love Among the Archives: Writing the Lives of George Scharf, Victorian Bachelor (2015), which won the North American Victorian Studies Association's Best Book of the Year for 2015.
Warhol co-edited (with Diane Price Herndl) Feminisms: An Anthology of Literary Theory and Criticism (1991, 1997) and its successor, Feminisms Redux (2009). She wrote Having a Good Cry: Effeminate Feelings and Popular Forms (2003), a study of the ways sentimental, romantic, and serial texts work to establish and reinforce gendered performance in fans of long-form TV series, Hollywood film, and Victorian and contemporary serial fiction, and Gendered Interventions: Narrative Discourse in the Victorian Novel (1989), an early work of feminist narratology which explicates her model of the "engaging narrator."
Recent articles address the construction of fictional space in Dickens's Bleak House; "reality effects" in mockumentaries like NBC's *The Office* and in so-called reality-TV shows such as The Real Housewives series; and on narrative innovations in Netflix series intended for binge watching.
Warhol's current project is a website, "Reading Like a Victorian," a collaboration with Colleen Morrissey. The site makes it easy to read serial installments of Victorian novels alongside installments of other novels that were appearing in the same "serial moment," or month and year. With Zara Dinnen she is co-editing the new Edinburgh Companion to Contemporary Narrative Theories.
Warhol has been a Senior Fellow at the Freiburg Institute for Advanced Study and an Einstein Fellow at the Free University of Berlin's Kennedy Institute for North American Studies.
Selected Publications