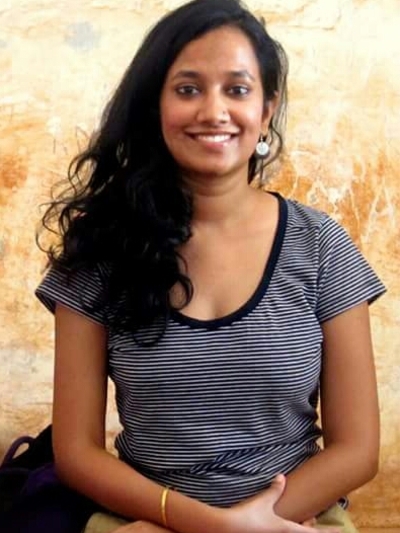 Sujatha Subramanian
Lecturer
Areas of Expertise
Girlhood and Youth Studies
Juvenile Justice
Feminist Critiques of Development
Feminist Media Studies
Gender and the Politics of Space
Education
Ph.D. in Women's, Gender and Sexuality Studies, The Ohio State University, 2022
M.Phil. Women's Studies, Tata Institute of Social Sciences, Mumbai, 2015
M.A. in Media and Cultural Studies, Tata Institute of Social Sciences, Mumbai, 2013
B.A. in English (Hons), University of Delhi, 2011
Sujatha Subramanian is a lecturer at the Department of Women's, Gender and Sexuality Studies at The Ohio State University. Sujatha has a Ph.D. in Women's, Gender and Sexuality Studies from The Ohio State University, an M.Phil in Women's Studies, an M.A. in Media and Cultural Studies from the Tata Institute of Social Sciences, Mumbai and a B.A. in English (Hons.) from Delhi University.

Sujatha's doctoral research project at OSU examined the effects of India's juvenile justice system on the girls placed in its institutions, looking at how girls' gender, sexual, age, caste, class and religious identities structure various aspects of the juvenile justice system's intervention into their lives, including institutionalization of girls and the reform and rehabilitation programs that they are subject to within these institutions. The research centers the voices of girls, arguing that as people most affected by juvenile justice policies and practices, girls detained within the juvenile justice system should be critical interlocutors in the theorizations on juvenile justice.

In addition to researching and theorizing on girlhoods, Sujatha envisions working with girls on issues of social justice and working towards advocacy that sees a greater participation of girls.
PUBLICATIONS
Peer-Reviewed Journal Articles
"From the Streets to the Web: Looking at Feminist Activism on Social Media." Review of Women's Studies, Economic and Political Weekly. Vol - L No. 17, April 25, 2015.
"Of Real Identities: Expressions of Femininities and Sexualities in Online Spaces." SubVersions. Vol. 3, Issue 2. June 25, 2017.
Journal Articles
"Is Hindutva Masculinity on Social Media Producing A Culture of Violence against Women and Muslims?". Economic and Political Weekly. Vol- LIV No. 15. April 13, 2019.

Book Chapters
"(Dis)Respectable Selfies: Honour, Surveillance and the Undisciplined Girl" In A. Aneja (Ed.) Women's and Gender Studies in India: Crossings. New Delhi: Routledge. 2019.

Book Reviews
"Women from Outside: Review of Selfing the City: Single Women Migrants and Their Lives in Kolkata." Economic and Political Weekly. Vol. 53, No. 19. May 12, 2018.
AWARDS AND GRANTS
Distinguished University Fellowship, awarded by The Ohio State University Graduate School, 2016-2021
Elizabeth D. Gee Grants for Women's, Gender and Sexuality Studies Research, 2019
Coca-Cola Critical Difference for Women Research Grant, 2018-2019
Common Differences Writing Award, awarded by the Department of Women's, Gender and Sexuality Studies, The Ohio State University, 2018
Common Differences Writing Award, awarded by the Department of Women's, Gender and Sexuality Studies, The Ohio State University, 2017
Research Grant, awarded by the South Asian Studies Initiative, The Ohio State University, 2017